Becky Nemo's Base
The base is a small one-story office building. The ostensible purpose of the business is "Nemo's Temps," a temp agency which doesn't actually handle much in the way of temps.

In a hidden basement is Becky's quarters, accessible via a concealed elevator in her office.

The windows are equipped with computer-controlled steel shutters which automatically drop into place if the Security Lockdown program is run.

The Environmental Control program simply handles things like music, air temperature and humidity, lighting and the like. It can also make coffee in the break room. The base has, of course, Internet access, and the company has subscriptions to Lexis/Nexis, as well as a number of other databases useful for basic P.I. style research.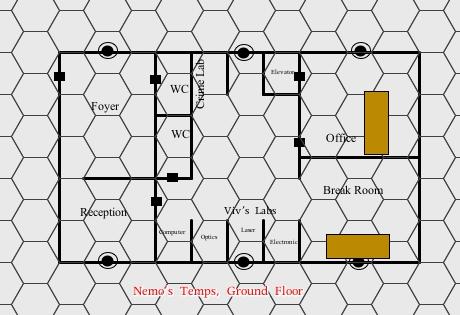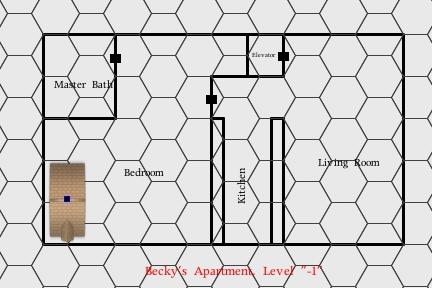 Base Stats:
Size: 100 hexes
Body: 2
Def: 2
Concealment: 17-
Computer:
Criminology Lab: 11-
Optics Lab: 11-
Laser Lab: 11-
Electronics Lab: 11-

(11)
(0)
(0)
(15)
(20)
(3)
(3)
(3)
(3)

Cost:55
---
Computer Stats:
INT: 13
DEX: 10
SPD: 2
PS: Detective Databases, 11-
Sci, Physics 11-
Sci: Lasers 12-
Sci: Optics 12-
Sci: Electronics 12-
Program: Environmental Control
Program: Security Lockdown
Program: UI to Databases
Total: 20
(3)
(0)
(0)
(2)
(3)
(3)
(3)
(3)
(1)
(1)
(1)

---
Back to Champs Main